PRODUCT DESCRIPTION
Calf Grower 16
The pellet has been developed to give the calf the best start in life looking after its immune system, Rumen health and Gut Health.The calf pellet is 16% Crude Protein and includes the new Alltech Calf Pak.

The Alltech calf pak contains Bioplex Trace minerals ( to boost the calves immune system), Actigen (for overall gut health and to help prevent ecoli / salmonella causing scours) and Yea-Sacc 1026 (for Rumen health and development.)

TYPICAL ANALYSIS: (approx.)
Fat 3.0% Maximum
Crude Protein 16.0% Minimum
Fibre 6.0% Maximum
Salt 1.5% Maximum

CALCULATED ENERGY VALUE12.5 MJ ME/kg Dry Matter

Ingredients Selected From:
Barley, Wheat, Wheat by-products, Soyabean meal, Palm Kernel, Molasses, Limestone, salt, Di-calcium phosphate, Alltech Calf Pak, Bovatec®, Artificial sweetener.

Feeding recommendations:

Pellets can be introduced from day 1 through to 12 weeks of age. Calves can be weaned when consuming 1 Kg of Calf Grower 16 pellets daily.
To maximise growth rates, continue with Calf Grower 16 pellets up to 12 weeks of age at 1-2Kg/head/day.
Ensure that:
* Clean, fresh water is available at all times.
* Stale, uneaten feed is removed daily.Calves have access to suitable forage such as straw, hay or pasture.
NOTICE : FOR ANIMAL USE ONLYContains up to 200mg/Kg Lasalocid Sodium ( as 200mg/Kg of Bovatec® 20%Mill mix A9679)

SUITABLE AS A FEED PRODUCT FOR DAIRY OR BEEF CALVES ONLY
Do not allow pets, horses or other species of animals access to this feed as the ingestion of Bovatec® may be fatal.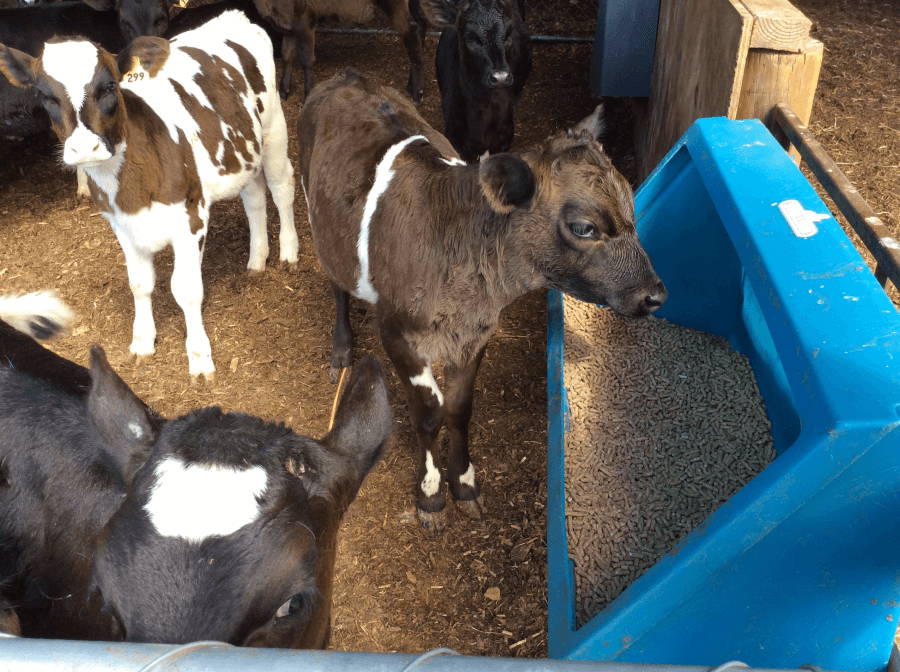 Ask about Custom Blends
A selection of additives are available for inclusion in the pellet to address the particular needs of your herd