PRODUCT DESCRIPTION
Supreme Dairy Pellets
Supreme Dairy Pellets are formulated to supplement the top producing cow's requirements.The ingredients have been specifically selected for high palatability to promote feed intake

TYPICAL ANALYSIS: (approx.)
Energy 12.0% MJME/kg DM
Crude Protein 13.0% Minimum
Fibre 5.28% Maximum
Salt 1.5% Maximum

Ingredients Selected From:
Barley, Broll, PKE, Linseed, Coprameal, Molasses, Lime, Salt, Saroline and a specialised vitamin and mineral premix.

Feeding recommendations:
* When introducing stock , commence at low levels and then gradually build up to the required intake over a two week period.
* Do not increase feeding levels too quickly.
* Prevent gorging by trying to ensure that each cow receives her allocated allowance.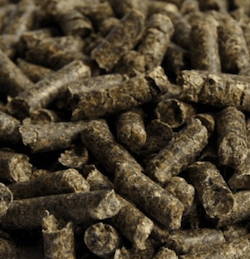 Ask about Custom Blends
A selection of additives are available for inclusion in the pellet to address the particular needs of your herd